Welcome to the Minnesota Gaming Casino Guide
Gaming information for MN casinos and MN bars and restaurants that have free Texas Hold'em poker tournaments.
In addition to information about casino games like slots, blackjack, bingo and poker, we like to showcase the amenities that you'll find in casinos in Minnesota.
We provide knowledge about the games so that casino visitors can enjoy the games more by understanding how casino games are played.
Texas Hold'em Poker is a game that is played in MN casinos as well as in many bars and restuarants in MN. The casinos play the game for real money, whereas in the bars and restuarants you can play for prizes with free money chips. The MN bars and restaurants that offer Texas Hold'em Poker Tournaments are great places to learn and practice the game.
Enjoy our website optimized for viewing on mobile phones, tablets, or desktop devices. If you would like to experience the Minnesota Gaming website using your cell phone or tablet, simply click on the "Mobile" link. If you are visiting our website while using a desktop computer, then clicking on the "Desktop" link above will bring you to our traditional website designed for viewing on larger monitors.
MN Gaming Daily News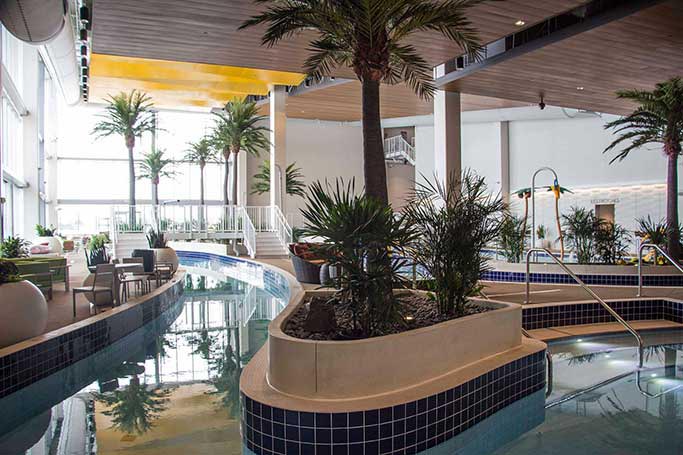 The Lagoon At Treasure Island Resort Casino
Photo courtesy of Treasure Island Resort & Casino website.
There is a new family fun friendly water park that has opened at Treasure Island Resort & Casino named The Lagoon, where you will find two water slides, a zero depth entry pool with a toucan slide for the young children, and a relaxing river that loops around the park featuring a rapids and a waterfall. There is even a concession stand with poolside food and drinks. To read more, please visit the Minnesota Gaming Directory pages about Treasure Island Resort & Casino.