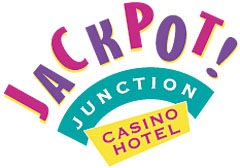 Jackpot Junction
Vegas Style Action
Jackpot Junction Casino Hotel gives you the best of two worlds - Vegas style attractions and warm Midwestern hospitality. The facility offers gambling action and entertainment.
Video slot machines, from nickel to twenty-five dollar slots; nickel, quarter and dollar progressives. Video keno, video poker, and new car jackpots are also available. In addition, Jackpot offers video slots that feature Ticket In/Ticket Out!
The Highstakes Slot Lounge offers a relaxed, comfortable atmosphere with a variety of machines ranging from five dollars to twenty-five dollars. Personalized host services are available to make your visit to Jackpot Junction Casino Hotel unique and fun.
You willl find blackjack tables with betting limits ranging from two dollars to five hundred dollars. Players can split pairs up to four hands (excluding Aces), and can play two positions at one time. Odds are the most liberal in the Midwest - with more double decks than any other casino in Minnesota. The Highstakes Blackjack Lounge offers eight tables with betting limits ranging from fifteen dollars to five hundred dollars. Guests can enjoy a private and comfortable environment.
Jackpot hosts weekly blackjack tournaments and larger LIVE blackjack tournaments bi-annually.
The best blackjack games in Minnesota and the friendliest dealers can be found at Jackpot Junction Casino Hotel.
Become an Express Club member and start earning your cash back rewards! Every time you play the slots, you can earn points redeemable for cash. Complimentaries are offered when using your card while playing blackjack and earn Bingo Bonus points when presenting your card in the Bingo Hall.
Minnesota Gaming Website Designed and Owned by Minnesota Gaming Directory, Inc. Copyright 1996 - 2014. All rights reserved.